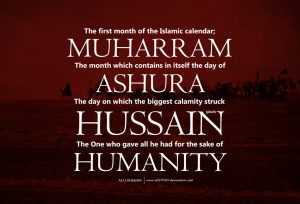 11/September/2018
Muharram has once again arrived, bringing along with it the days of sorrow and grief. It is a sad period for Shia Muslims, as Muharram is the month in which Imam Hussain was massacred along with 72 of his family members and companions, as a result of opposing the tyrant Umayyad Caliph of the time, Yazid. Although Muharram is a sanctified month as a whole, yet, the 10th day of Muharram is the most sacred among all its days. The day is named 'Ashurah', and it marks the very day in which Hussain and his family were beheaded.
Throughout the coming 10 days, Shia Muslims as well as a minority of Christians mourn the tragedy of Hussain which took place in Karbala, Iraq on10 October 680 AD. They cry, gather in centres to learn about the philosophy of Hussain's uprising as well as feed the poor.
Imam Hussain inspires me to never shake the hand of an extremist, and to always side with humanity and freedom at all costs.
To learn more about Imam Hussain, you can visit Who is Hussain or read my article here.
Imam Tawhidi 
Washington DC.