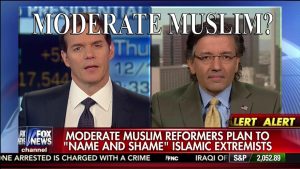 By Imam Tawhidi
CNN is a corrupt news network that gives voice to Islamic Extremists, Militant Islamists and fundamentalists. Muslim reformers and conservatives such as myself depend on genuine and alternative news coverage, and while Fox News is generally thought to be somewhat better than CNN, there are alarming signs of Islamic infiltration within their studios and programs.
Fox News presenters aren't experts on Islam, and therefore cannot be blamed when strategically infiltrated by a guest who endorses Islamic Supremacy. In this case, it's Zuhdi Jasser, a man celebrated for ticking all the right boxes for republicans. Zuhdi is craving to become a U.S Senator, and is using every platform he can to build himself a title.
Let me be clear: I support and defend reformist Muslims. I take every opportunity to give them a voice and platform, but Zuhdi Jasser isn't the man he presents himself to be.
The Declaration of Islamic Supremacy
Zuhdi Jasser authored a book wherein he confesses that his faith and ideology are heavily influenced by militant Islamists.
In his book, A Battle for the Soul of Islam, Zuhdi Jasser speaks about his influencers. He says, "My own Islamic ideas were influenced by a host of others in my life," moving on to say "I was able to find who nurtured my faith. In my own readings, I was influenced by such leading reform-minded Islamic thinkers," then listing Alija Izetbegović as his influencer.

If you haven't heard of Izetbegovic, he was the President of the Presidency of the Republic of Bosnia and Herzegovina, and also the author of The Islamic Declaration (1970). A work of absolute Islamic Supremacy that drips blood and promotes militant Islamism. The public immediately accused him of wanting to turn Bosnia into an Islamic State, simply because he referred to the Islamic Republic of Pakistan as a "Model country".
Also in The Declaration, Zuhdi Jasser's influencer says, "There can be neither peace nor coexistence between the Islamic religion and non-Islamic social and political institutions" and that "the Islamic movement should and can start to take over power as soon as it is morally and numerically strong enough to be able to overturn not only the existing non-Islamic government, but also to build up a new Islamic one."
These quotes fall in line with the very mission of Al-Qaeda and ISIS, and if this ideology isn't the very core of militant Islamism, then what is?
Al-Qaeda and ISIS consider themselves reformists who are fighting for the soul of Islam, and so is Zuhdi Jasser, as he titled his book "A Battle for the Soul of Islam" – in his case however, it is a delusion that suggests that the early stages of Islam were peaceful; a distraction from dealing and eliminating the core problem of militant Islamism.