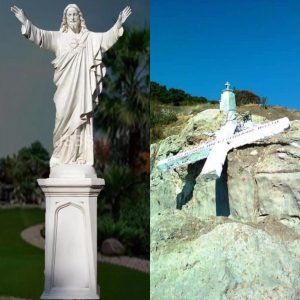 The Story
A Christian cross which was built on the rocky shore of Apelli in honour of the people that have died swimming there has been pulled down as a co-existence group based on the Greek island claimed it was offensive to (Muslim) migrants. This of course is a result of the pressure of fundamentalist Islamists who use "coexistence" groups as fronts to further their anti-Christian agendas. Exactly how is it coexistence when the symbols of one group can't exist?
The Cross of Jesus was pulled down and levelled with the ground. Would the same happen if Christians told the government that Extremist Islamic Symbols were also offensive? You know the answer to that question. This is not the first time an attack on Western monuments takes place, you can read about previous attacks here, here, here, here, here, here, and here. This is cultural terrorism.
We have two options: To stay silent or to act. And we're not staying silent. 
Imam Tawhidi Foundation will respond to this tragic event by erecting a large 3-Metre monument of Jesus Christ in Iraq, a Muslim majority country. From now on, if Islamic extremists destroy or become part of the reason behind the destruction of Christian monuments, our foundation will install bigger and better monuments in Muslim majority countries. It will take time, but we will do it.
What We've Done so Far
Since Imam Tawhidi's announcement yesterday to respond to the demolishing of the Cross, the following has taken place:
1- We have established a partnership with The Iraqi Christian Relief Council, and a meeting will take place between its founder, Juliana Taimoorazy, and Imam Tawhidi in New York on the 16th of November 2018, to work on achieving this objective. A video will be released on social media discussing the results and achievements of the meeting.
2- We have submitted a monument proposal to JSBS Carving, which will look similar to the following design: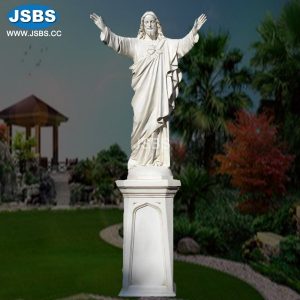 The 34 year old carving company has agreed to our custom modifications and will provide us with a quote once the specifics are agreed upon in the meeting between Imam Tawhidi and the Iraqi Christian Relief Council in November next month. These include monument material (marble type), carving text on the monument's pedestal to highlight the story of this monument, as well as the location of its installation. The monument will weigh over 1500 KGs.
3- We have contacted Iraq's ministry of interior and informed them of our plans. Imam Tawhidi is also an Iraqi citizen, and there are no obstacles in his path from completing this project.
Project Timing
The production of the monument will take 40 days.
Shipping from China to Iraq will take around 35 days.
Relocating the monument from the seaport to the Christian areas of Northern Iraq will take around 2 weeks (including customs clearances.)
Installation would take around 3 days. This includes hiring a crane to install it, planting flowers around it and celebrating its installation.
Financing
This event will be financed by Imam Tawhidi Foundation and donors. Contributions will be accepted after the meeting between Imam Tawhidi and Juliana Taimoorazy takes place next month, as more details will be added to this project.
Thank you