1- Sheikh Khalid Bin Hamad Bin Khalifa Al Thani, the brother of the Emir of Qatar, is being targeted in a US Federal lawsuit, for trying to force an American Security officer to murder two people and holding an American paramedic hostage.
2- Matthew Pittard (security), and Matthew Allende (medic) are both American citizens who worked for Khalid in Beverly Hills and also traveled with him regularly to Qatar.
3- "During his employment, Pittard was solicited by Defendant Khalid for the murder of two individuals. In approximately late September of 2017 and November of 2017, in Los Angeles, California, Defendant Khalid asked Pittard to murder a male and a female who Defendant Khalid viewed as threats to his social reputation and personal security. Pittard refused to execute these unlawful requests," the LAWSUIT says
4- And that "From approximately July 7-10, 2018, Defendant Khalid and his private Qatari security staff held an American citizen against the American citizen's will on at least two occasions in one of Defendant Khalid's personal residences," the suit continues. "At Defendant Khalid's request, the American citizen was arrested and jailed at the Onaiza Police Station in Doha, Qatar. Pittard and the United States Embassy came to the aide of the American citizen, and helped the American citizen reach a point of safety, and eventually safely depart from the country."
Official Qatari media has attempted to character assassinate and defame me, and therefore I am leaking and publishing the following document:
(Article continues below document)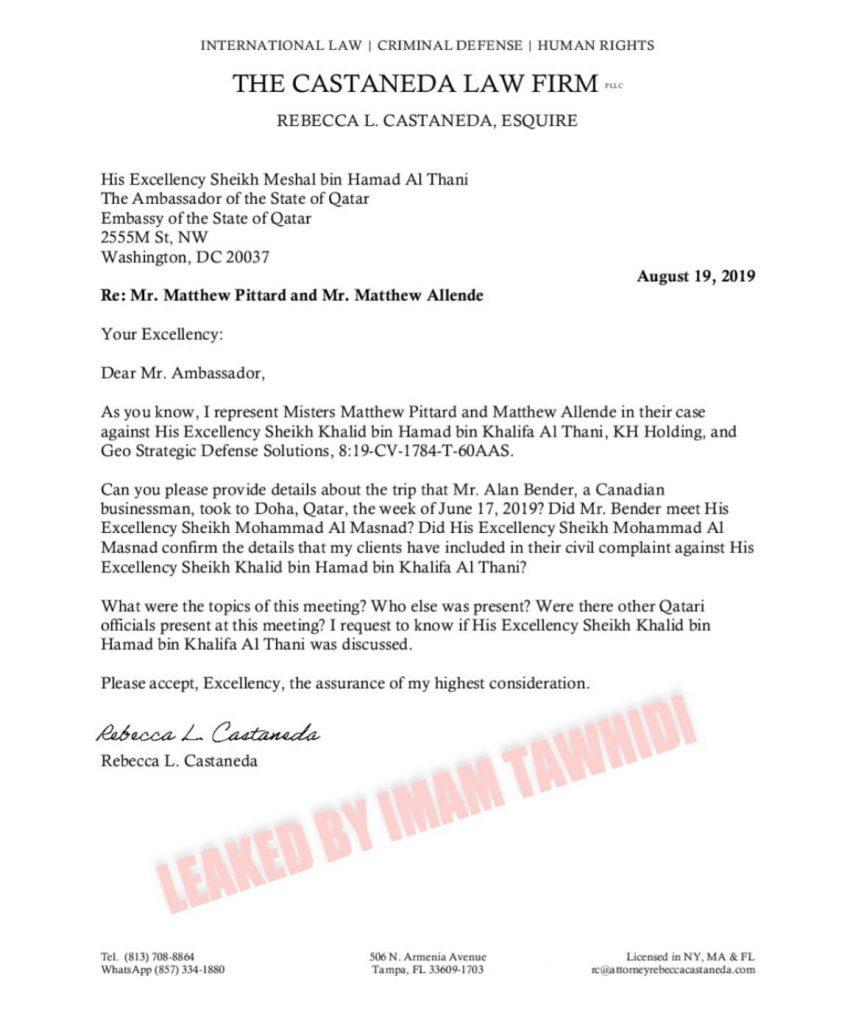 (Original document can be provided upon request) This document was obtained and shared via legal means and sources.
This letter, sent from the Castaneda Law Firm addressed to Qatar's Ambassador to the United States, Sheikh Meshal Hamad Al Thani, asks him to confirm whether Qatar's head of Intelligence, Sheikh Mohammad Al Masnad confirmed details of the crimes that her clients – Matthew Pittard and Matthew Allendale – brought against Sheikh Khalifa, during his meeting with Alan Bender, a Canadian businessman who travelled to Doha by invitation on the 18th and departed on the 21st of June 2019.
During these three days, Alan Bender met with Chief of Intelligence Al Masnad, who is the cousin of the Emir's mother, Sheikha Mozah bint Nasser al-Masnad.
Among the never-ending Qatari Crimes, Khalid asked Pittard to murder a male and a female who Khalid viewed as threatening to his social reputation and personal security. Pittard refused to carry out the murders.
Al Masnad confirmed to Alan Bender that everything that happened in this case is true, in their June meeting during which Khalid was brought up in conversation.
The Qatari embassy has been avoiding responding to this document and fearing it because it includes the names of Mohammad Al Masnad, who is the head of Qatar's intelligence. Qatar is attempting cover up this huge scandal by not responding to the lawyer. And this is not the only scandal Qatar's ruling family is involved in with American citizens. There's further evidence that Qatar's corruption has even penetrated into Congress.
If Alan Bender was to testify or provide an affidavit to this effect, it will dually confirm the crimes of the Qatari family.
Again, I have leaked this document in retaliation to Qatari media targeting me since June 2019 in an attempt to character assassinate me. I am sitting on a pile of documents currently based in the USA concerning Qatar and Congresswoman Ilhan Omar; and will release them at my own discretion and time of choosing.