Congresswoman Ilhan Omar can't help but continue proving everything I say about her to be true. I am releasing this information on my website for two reasons:
1- I will not speak to the media at the moment. Yes, this might be positive news for Ilhan and her team, but I will know when, how and who to approach when it comes to breaking the chain of stories.
2- I am following a strategy that allows me and my insiders to have a crushing victory at the end of all of this. For as long as Ilhan continues to dig her hole, I will sit and watch. As tempting as it is to spill the beans, Napoleon said 'Never interfere with an enemy while he's in the process of destroying himself.'
To me, Ilhan Omar is a big fish, because Ilhan means Qatar. I will not reel this fish in quickly to risk my line snapping. I will allow her and her team to come to the surface, and that is when I will strike. Me sharing parts of my strategy will not impact the process of my plans and their continuous mistakes. What I possess on Ilhan Qatar cannot be hidden nor undone, and is directly linked with future events. I consider Ilhan to be foolish, but not foolish enough to think that I don't have a plan nor strategy.
Here's a minor exposé of the very recent plots by Ilhan Omar and her Brooklyn Princess Linda Sarsour. This will prove what I said in the below tweet, and is also only a *drop in the ocean* of what I possess and what I will release based on my timing and strategy.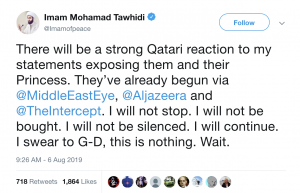 As you read this, you will see how weak, desperate and hopeless these fools really are. Ilhan Omar and Linda Sarsour are now working with Brian and Ed Krassenstein, the twin trolls that were suspended from Twitter. It gets better.
The two were actually being paid by Qatar to keep attacking the President. They admitted to being paid by "Higher Ups" in a YouTube video, available here. After being suspended from Twitter, they joined the team at The Intercept, and take orders from Ilhan Omar. Brian is currently working with Ilhan Omar and Linda Sarsour to release an extensive report to frame: GOP Donors, Trump supporters, Ilhan's loud critics (Mainly Imam Tawhidi), and Conservative media — as paid agents working for MBZ (Mohammad Bin Zayed), Leader of The UAE.
The following is a WhatsApp Text Message sent by Brian to one of the people he considers to be a source for information. Brian does not know that every *Serious* move he makes on WhatsApp, Facebook Messenger and Twitter (Through his anonymous account) actually reaches me within hours, if not instantly as he is plotting.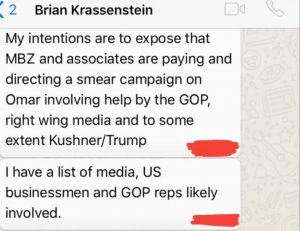 Notice how Brian says he wants to "Expose" those who criticize Ilhan, then says they are "Likely" involved. He has no source, it's a frame job. And The Intercept, Al-Jazeera and The Middle East Eye are planning on releasing it despite it being a complete FAKE smear from Brian, Ilhan and Qatar.
Here's another friend of Brian who was actually on the phone with ME for almost 2 hours while chatting with Brian, and telling me what Brian is planning with Ilhan, Qatar, The Intercept, and Qatari paid media in the USA. He is a tool, but his seniors do actually have plots to frame me.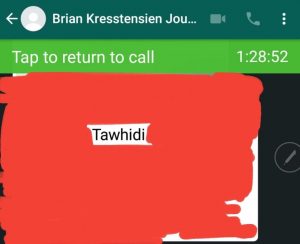 This is how pathetic Ilhan Omar and her friends are, having a troll to mediate between them and Qatari-run outlets. Brian is also a clown who only wants Qatar to know that even though his Twitter was suspended, he's still part of the team. As for The Intercept, I have sources from within them. I will release not only chats exposing their plots, but more. I will do it my own way.
This was a piece of cake, and I thought I'd get it out of the way to focus on the bigger issues, such as who Ilhan is inviting to speak in Congress, based on the orders of who, and for what political reasons. These cases have already begun, and cannot be undone by Ilhan or anyone else. If the Chief of Qatar's Intelligence Mohammad al Masnad thinks he's seen the last of Imam Tawhidi, he's needs to think again (with his brain, instead of just sitting on it).