Since the fight for the so called Islamic Caliphate began, many doctors, lawyers and engineers joined ISIS. This proved that radicalisation isn't always cured with education, and sometimes the most educated can become terrorists. Two good examples would be Former Adelaide doctor Tareq Kamleh and Faisal bin Shaman, who went from being Life-Savers to Life-Takers.
The United Kingdom has been trying very hard to stop British doctors from joining Islamic State or other terrorist organisations, which have been urgently seeking more foreign medics to help at its hospitals in Syria.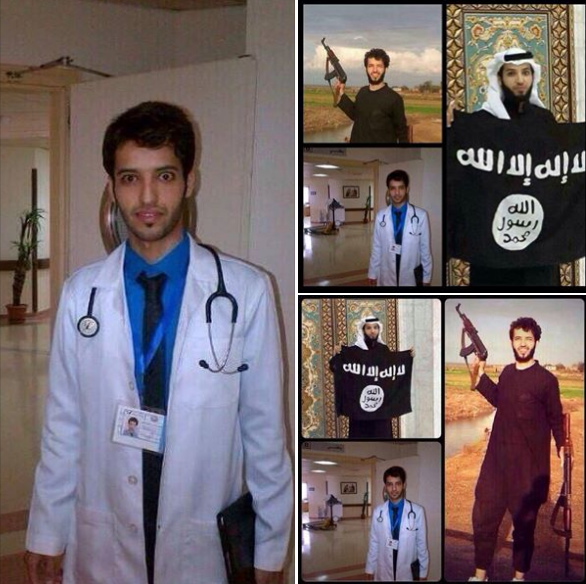 Last Friday, two Mosques in New Zealand were targeted by a White-Supremacist Terrorist that killed 50 innocent worshipping Muslims. After those attacks, Imam Tawhidi and others expressed their strong condemnation and solidarity with the victims. In response to this, a UK-Based Muslim doctor tweeted the following:
This tweet is not only foolish as Imam Tawhidi is a well known voice against all forms of terrorism, it also endangers the lives on innocent people. Dr. Naveed is trying to remain within the law by using phrases sentences such as "They need to be removed from society" after branding them as "terrorists".
We do not support doxxing individuals, therefore we will share only what he has already made public on his medical profiles. We encourage British citizens to protect patients and society from this extremist and potential terrorist by reporting him to the authorities.
Profile of Extremist Doctor:
Name: Dr.
Naveed
Iqbal. | MD (GP) (Pediatrics/internal medicine)
Location: Primarily located in Manchester, UK.
Listed as practicing at:
Eaves Lane Surgery
Address: 311 Eaves Lane, Chorley, Lancashire, PR6 0DR
Organization Code P81689
Tel: 01257 514144   Fax: 01257 514150 
Affiliations:
MedGlobal, Syrian American Medical Society
Related information:
Medical doctor at NHS, GMC # 7017401
Social Media:
Linkedin: https://uk.linkedin.com/in/naveed-iqbal-04369a144
Twitter: www.Twitter.com/seditious_medic
Facebook: https://www.facebook.com/naveed.iqbal.73744801?ref=br_rs
The following information is presented with the sole purpose of providing awareness, should any of the mentioned individuals in Dr. Iqbal's tweet become subject to danger.