By Imam Tawhidi – Sep 18, 2018 @ 11:03
Linda Sarsour never fails to attract attention from the media. Within the "feminist" community, she is celebrated as a "women's rights activist" and considered a champion of Muslim and minority rights within America. Despite an impressive 273,000 followers on Twitter, the majority of the Muslim community she claims to represent have called what they believe to be her elaborate bluff.
Going from one extreme to another, it's becoming hard not to address the invisible Burqa of hypocrisy Linda carries around to promote her two-faced agenda.
Nowadays she claims to be a "true feminist", co-organising the Women's March while carrying beneath her veils a dark history of enabling sexual assault, and calling for the violent removal of female body parts from women she disagrees with.
Her violent attitude, disorderly conduct and illegal actions have led to her several arrests in the past. In March, she demanded to meet with Speaker of the House Paul Ryan, and was arrested after leading a violent protest in his office.
Recently, Linda Sarour was arrested once again. This time for joining Far-left activists to interrupt and interfere in the confirmation hearing for Supreme Court Nominee Brett Kavanaugh. She continued to shout and yell at U.S Senators in a very uncivilised manner, and it took multiple Capitol Police officers to forcibly remove her from the room.
The base of Linda Sarsour's entire career and backbone of her credibility is that she is a Hijab-wearing Female Muslim. She's the perfect poster girl for liberals and the far-left, being proudly supported by notorious and terrorist Islamist organisations such as CAIR.
Playing the "Muslim Card" has proven to be extremely beneficial in politics and the media, which now prompts the question: Is Linda Sarsour really abiding by the Islamic Laws which she upholds?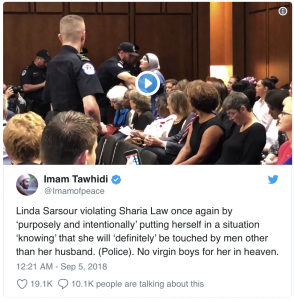 After watching the video of the event, I made the above tweet which received response and interaction from thousands of followers. This encouraged me to continue exposing Sarsour's hypocrisy, as she continues to violate the Sharia laws and "Islamic Modesty" she continues to promote in the U.S.
Islamic Laws for Practicing Muslims:
Linda Sarsour presents herself as a conservative and practicing Muslim. She dresses in the headscarf, leads Muslim events and finds herself in a position to direct American Muslims towards pursuing Jihad in the path of Allah.
I'm not Allah to judge her. But I as well as many other scholars on Islam do know the obligations of Sharia Law.
Firstly, Sarsour's presence in the public:
According to Islamic Law, women must not leave the house alone without a valid reason, such as in the time of an emergency. During a normal day, a woman is only allowed to leave the house with a male guardian, as practiced in Islamic Saudi Arabia.
The second Caliph of Islam and father in law of Prophet Mohammad, Umar, had ruled that 'women are the prisoners of their husbands' and that "a woman is like a slave of her husband, and she cannot go out of his house except with his permission." This permission should be made known and public.
Secondly, Sarsour's appearance and fashion:
According to Sharia Law, "It is obligatory for a woman to cover all of her body in front of unrelated men, including the face." A female yelling and raising her voice is considered an act which goes against "Islamic Modesty".
Based on the Jurisprudence of Sarsour's Islamic school of thought, it is also an obligation to wear a Burqa which covers the face, even in the West, as the ruling states: "The woman is obliged to adhere to wearing a Burqa even if she is in a non-Muslim society, out of obedience to her Lord and adherence to her religion." – something which Linda Sarsour proudly and hypocritically refrains from doing.
Then comes the issue of her make-up and jewellery, that are also strictly forbidden according to the Quran, which orders all Muslim women to "not reveal their adornment except to their husbands" and immediate family members.
In no way do I support violent or intolerant Sharia Law, in fact I completely reject it. The point here is, if Linda Sarsour wishes to continue enjoying the freedoms of Western Civilization, then she should denounce the intolerant forms of Sharia Law and Jihad and stop promoting such outdated teachings through her talks.
There are many practicing Female Muslim activists who share the same political views as Sarsour, but still preserve and maintain their Islamic beliefs. What makes Sarsour a total hypocrite however, is that she preaches, promotes and fights for an ideology that she continuously violates and doesn't even practice.