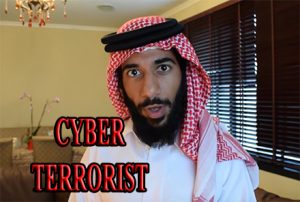 UPDATE: We have received information regarding his real family name as well as his family business(es). Keep them coming. 
Bahraini resident 'Farid' is an online activist who produces extremist content and preaches militant Islamism and other dangerous ideologies which result in sectarian conflict and violence. He is currently working together with other likeminded individuals, producing content based on a hardline ideology, similar to that of ISIS and Al-Qaeda. His activism revolves around the promotion of militant Islamism, Islamic extremism, Jihadism and which contributes to the radicalisation of vulnerable Muslim youth.
Such activities are illegal in Bahrain, hence his YouTube Channel is unavailable in Bahrain.
The newly established 'Intelligence Desk' (Desktop) along with the Imam Tawhidi Foundation are offering up to $5000.00 USD for information either exposing him or that which leads to his arrest and prosecution. Every piece of information is valuable to us: His location, full name, whereabouts, friends, family, schools, previous holidays, trips to Western countries (and his affiliations in the West), and so on.
Another $1000 will be rewarded to individuals who notify The National Security Agency of this individual and his dangerous activities. We require a report document or call reference as proof of your report.
We have also received actionable information and unreleased material which we plan to release in the foreseeable future, but will be happy to do so to The National Security Agency. (جهاز الأمن الوطني البحريني)
You may be his friend, former friend, cousin, or someone who just simply knows him and has information which could be of value to us. We respect your anonymity and privacy and wouldn't want this extremist retaliating against you either. We urge you to create a 'fake' email and get in touch with us through the form below. Keep it simple by telling is what type of information you have, with proof that you possess such information. We will then agree on a reward amount of up to $5000.00 USD. Your reward will be transferred to you in a manner which you are comfortable with. If you reside in Bahrain, our associates will get in touch with you and meet you at an agreed upon location.
If you do have information, and are hesitant to provide it, we ask you to think about it. Our reward will always be waiting for you on this very page.
Note: The name 'Farid' could be spelt differently: Fareed, Fareid, Faried. Fareyd, and so on. However, it has only one spelling in Arabic: فريد
What will we do with your information?
Once we obtain the information we are looking for, we will get in touch with senior community leaders within Bahrain as well as other Bahrain diplomats whom we have dealt with before. Our goal is to expose this individual as well as have him face the full force of the law. We will also attempt to block his entry to Western countries.
THIS REWARD OFFER DOES NOT APPLY TO THE RESIDENTS OF IRAQ, SYRIA OR IRAN.